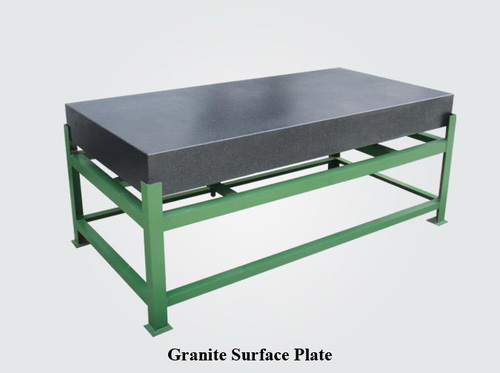 Granite Surface Plates
Product Description
Our company is a reputed entity affianced in manufacturing and exporting an excellent range of Granite Surface Plates in the market. These plates are designed by utilizing superior quality granite under the guidance of our experts in line with the predefined industry standards. The offered plates are demanded in engineering, mechanical and automobile industry for precision gauging, layout inspection and marking purposes. These Granite Surface Plates are offered in several dimensions to our valuables clients at an affordable price.
Salient Features:
Durable quality
Easy to relocate
High strength
They are preferred by Engineering Industries, Research Laboratories and Precision Tool Rooms because of their following outstanding advantages:
No rust, free from relatively warp, no corrosion, longer wear, no compensation hump when nicked, smoother action, nonmagnetic, greater precision, lower co-efficient of thermal expansion, less care after commissioning and non-glaring surface.
Salient Features:
Close grained Granite having uniform texture & colour, along with hardness between 5.6 to 7 on Moh's scale, with sound & flawless fissures, and large inclusions of softer minerals is used for production.
Made in compliance with IS-7327-2003 standard generally. Also available on request conforming to BS-817-1988, DIN-876-1972, JIS-B-7513 and GGG-P-463-C (US Federal specification).
Rexine cover provided for top working surface with each Surface Plate.
MS Fabricated Stand / Cast Iron individual Column type Stand/ Cupboard type / Granite special Stand with Vibration Isolation Plates with leveling screws can be made available at extra cost on request.
Metalic threaded inserts, Plates with two or four ledges, Metalic T-slots, etc. can also be supplied against specific request at extra cost.
STANDARD SIZES AND TOLERANCE OF FLATNESS

Size in mm

Flatness tolerances of various Grades (microns)

(L x B)

Grade - 0

Grade - 1

Grade - 2

Grade - 3

160 X 100

3.0

6.0

12.0

25.0

250 X 160

3.5

7.0

14.0

27.0

250 X 250

3.5

7.0

15.0

30.0

400 X 250

4.0

8.0

16.0

32.0

400 X 400

4.5

9.0

17.0

34.0

630 X 400

5.0

10.0

20.0

39.0

630 X 630

5.0

10.0

21.0

42.0

1000 X 630

6.0

12.0

24.0

49.0

1000 X 1000

7.0

14.0

28.0

56.0

1600 X 1000

8.0

16.0

33.0

66.0

2000 X 1000

10.0

19.0

38.0

76.0

2500 X 1600

11.5

23.0

46.0

92.0
NON-STANDARD AND LARGES SIZES

500 X 500

600 X 450

600 X 600

750 x 500

750 X 600

800 X 600

900 X 600

1000 X 500

1000 X 600

1000 x 750

1200 x 800

1200 x 900

1200 x 1200

1500 x 750

1500 x 1000

1500 x 1200

1500 x 1500

1800 x 1200

2000 x 1250

2000 x 1500

2000 x 2000

2400 x 1200

2500 x 1000

2500 x 1500

2500 x 1600

2500 x 2000

3000 x 1000

3000 x 1250

3000 x 1500

3000 x 2000

3000 x 2500

3000 x 3000

4000 x 1000

4000 x 1500

4000 x 2000

4000 x 2500

4000 x 3000

5000 x 1000

5000 x 2000

6000 x 1000

6000 x 1500

6000 x 2000
Contact Us
Zone D-3,25-28,G.I.D.C.,Vitthal Udyognagar, Vallabh Vidyanagar, Dist. Anand, Anand, Gujarat, 388121, India
Phone :+918045478654